STRIVE Career Center
STRIVE Career Center at St. Mary's University —
S
uccessful,
T
ransformative
R
esults from
I
nnovative 
V
ocational
E
xperiences — engages campus and community partners to provide vocational and experiential education opportunities for our students.
These innovative programs engage alumni, parents, faculty, staff, employers and citizens of the community in strategic partnerships. Our educational purpose is to develop essential life skills and career competencies that bridge professionalism with character-driven values, to inspire students and alumni to pursue a successful career journey.
Core Values of STRIVE Career Center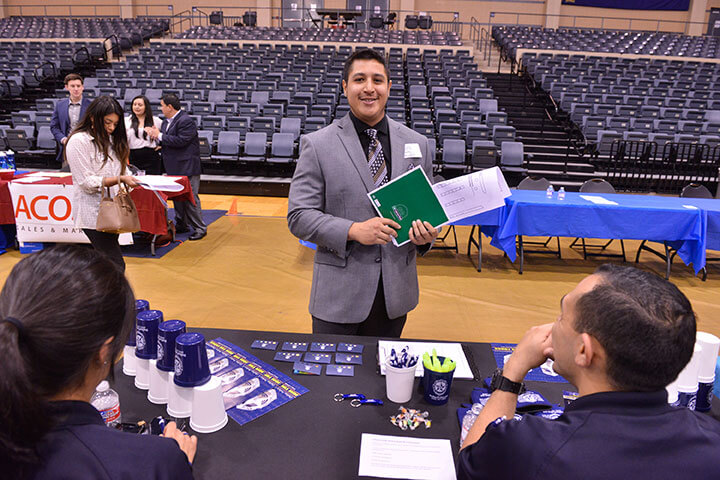 STRIVE Career Center is guided by four core values to transition students from an educational setting to a vocational career.
Excellence: Setting and achieving the highest standard of activities and behaviors
Partnerships: Working with internal and external stakeholders to build valuable relationships in order to meet shared outcomes
Trust: The respect to acknowledge a person's character and competence as deserving of belief that there is truth and reliability
The Experience: The celebration of bestowing vocational stewardship onto students by providing guidance, skills/competency based and experiential learning career development opportunities
Employer Services
STRIVE Career Center offers employers numerous opportunities to recruit St. Mary's students and alumni while developing relationships with these potential employees and our office.
RattlerCareersJoin RattlerCareers Employers can use RattlerCareers to post employment opportunities for St. Mary's students and alumni, experiential learning opportunities including internships and research.
Job and Professional School Fairs
Employers can participate in job, internship, and professional school fairs that are either general and industry-specific, and are open to all St. Mary's students and alumni to attend. Students are not required to register for fair participation in order to attend. Professional attire is required for most fairs, and students are strongly advised to bring a résumé and be prepared for interviews on site.
On-Campus Interviews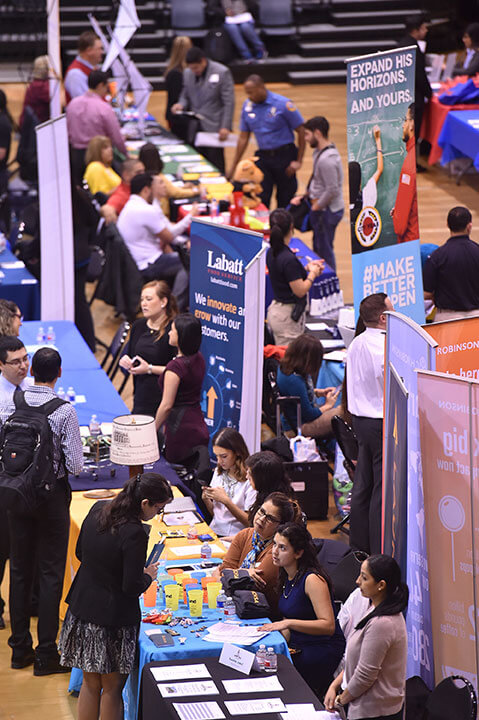 Throughout the year, students can register for on-campus Interviews through RattlerCareers. Employers will have the opportunity to conduct one-hour or half-hour interview appointments with students interested in your field, or with students seeking to improve their interview skills. Students are encouraged to prepare for their interviews by meeting with Career Advisers for a résumé review, an interview prep session, and a mock interview. The STRIVE Career Center has two interview rooms for use.
Information Tables
Tables for your organization can be set up on campus to reach students in a casual atmosphere. We will work with you to ensure your space is reserved and advertised in advance to students. Typically, tables are set up for a large duration to catch students in between classes and briefly as they go about their day on campus.
Information Sessions
Your organization can host an information session that would involve a formal presentation. You can share in-depth information about the culture, vision, and organizational needs of your organization, including employment opportunities.
Presentations
Organizations can offer presentations to classes and Registered Student Organizations for students to learn more about your organization in a small, intimate setting.
Student and Alumni Services
STRIVE Career Center offers a variety of programming and services geared to help students discover the intersection at which their Mission, Vocation, Profession and Passion overlap in a career selection.
Services and resources of STRIVE Career Center are available to students in all disciplines and all St. Mary's alumni. Students of the St. Mary's University School of Law should refer to Law Career Services.
Resources and services include career counseling, workshops, résumé reviews, job and internship fairs, and access to RattlerCareers.
In-depth information about the services and resources for students can be found on STRIVE Career Center's Gateway page.
RattlerCareers
RattlerCareers is an online, job-posting site where students and alumni can search for full- and part-time jobs and internship postings. These postings are connected through corporate, governmental and nonprofit partners. In addition, users can have their up-to-date résumé on display in their RattlerCareers account, which allows them to engage in various programs such as on-campus interviews, résumé collections and résumé referrals.