80%
of graduates say their current position falls in line with their life goals.

32%
of students enter graduate or professional school within 18 months of graduation.

56%
of undergraduate students completed an internship while enrolled.

74%
of May/August 2019 graduates employed or enrolled in graduate school.

Start Your Career Journey
STRIVE — Successful, Transformative Results from Innovative Vocational Experiences — Career Center at St. Mary's University engages campus and community partners to provide vocational and experiential education opportunities.
These innovative programs engage alumni, parents, faculty, staff, employers and citizens of the community in strategic partnerships.
Our educational purpose is to develop essential life skills and career competencies that bridge professionalism with character-driven values, to inspire students and alumni to pursue a successful career journey.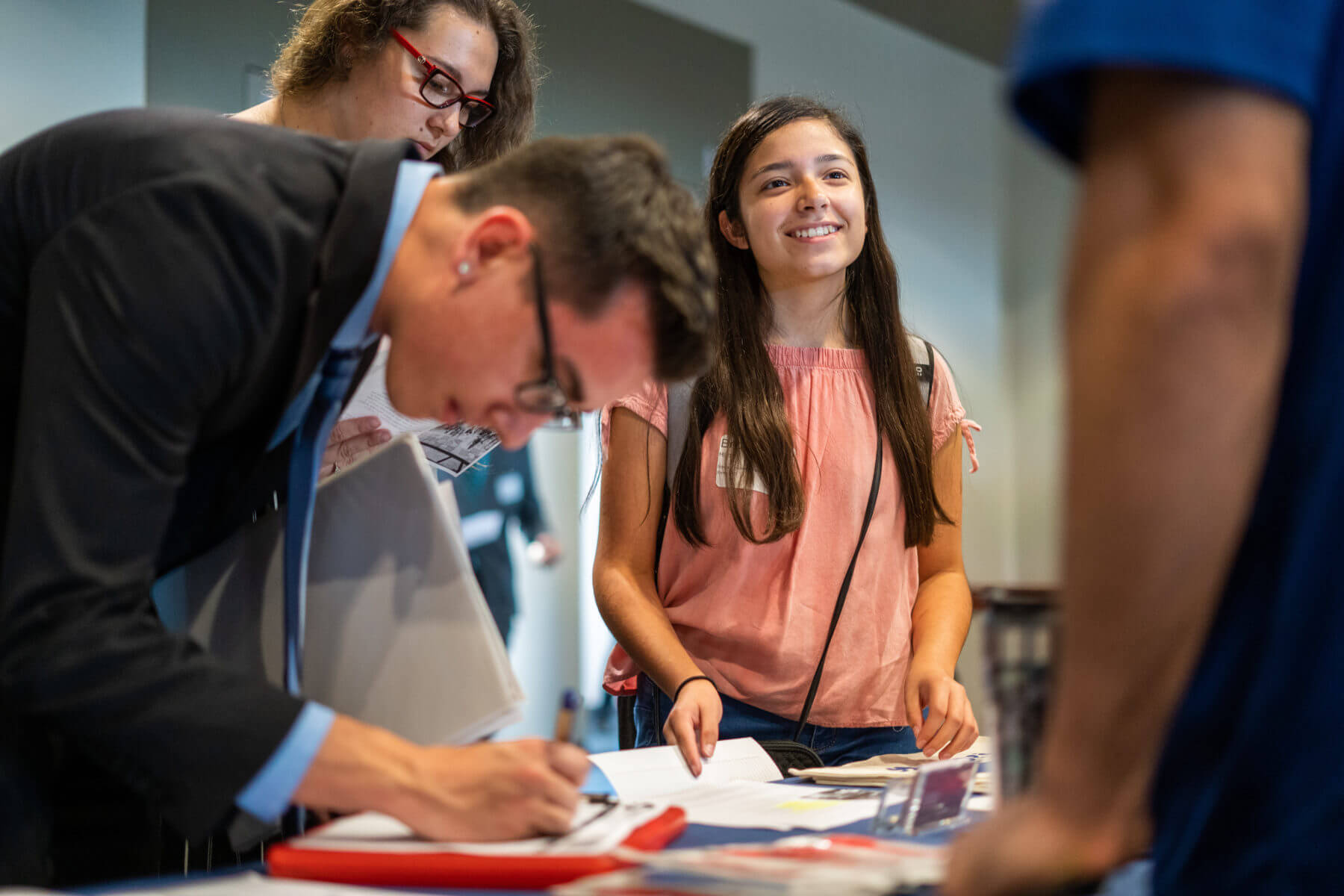 Temporary Online Services
Through the remainder of the semester, the STRIVE Career Center is available for all appointments via email, telephone and Zoom video conference. To schedule a time, please book through Handshake or email us at strivecareer@stmarytx.edu.
The Resources tab within Handshake has access to outlines for resumes and cover letters, tips on interviewing, and access links to our online platforms including PathwayU, Candid Careers and Resume Target.
Find Your Intersection
The STRIVE Career Center seeks to offer a variety of programming and services geared to help students discover the perfect intersection at which their Mission, Vocation, Profession and Passion overlap.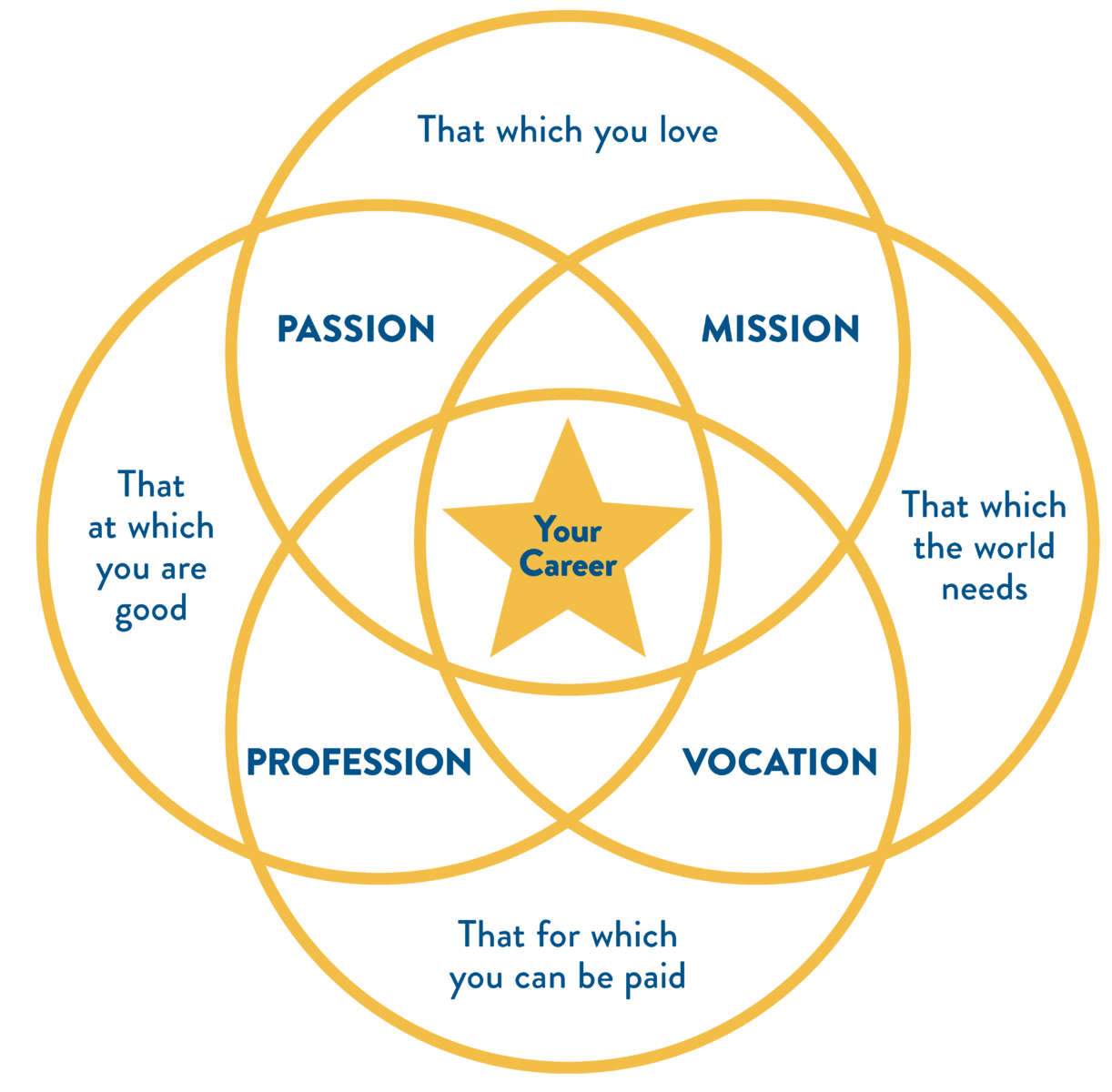 Explore Our Services
Find out how the STRIVE Career Center helps students, alumni and employers alike.
The STRIVE Career Center offers free career counseling and advising for undergraduate and graduate students of all disciplines and alumni.

Students and alumni can schedule individual appointments to discuss career and major exploration, switching carers, finding a job or internship and more.

Career counseling and advising
Tables sponsored by outside organizations are regularly set up on campus to reach, recruit and inform students of job and internship opportunities. Sessions are also open to students, offering them a change to hear in-depth information about an employer's culture, vision and organizational needs.

Are you an employer hoping to set up an information table or session? Contact the STRIVE Career Center at strivecareer@stmarytx.edu or 210-436-3102 to learn more.

Information tables and sessions
The STRIVE Career Center sponsors and co-sponsors job, internship and professional school fairs for undergraduate and graduate students throughout the year.

Students can find networking opportunities, and participate in on-campus interviews and resume collections.

Job and Internship Fairs
Our counselors, part-time graduate assistants, and student peer advisors are trained to review résumés, checking for format, content and relevancy. They can also provide assistance in the creation of résumés, cover letters, LinkedIn profiles and personal statement documents.

Résumé Creation and Review
All students and alumni are welcome to set up an on-campus interview with a potential employer after submitting their résumé and application.

Before interviewing, students are encouraged to schedule and attend and interview prep session and practice interview with a STRIVE Career Counselor.

On-Campus Interviews
Through our services and resources, students and alumni can connect with and apply to top employers in the San Antonio area and the nation, including USAA, H-E-B, Google, Union Pacific and more.

See more top companies for employment and internships on the For Students page.

Connecting with Top Companies
Four Core Values
Rigor (Excellence) – Setting and achieving the highest standard of activities and behaviors
Relationships (Partnerships) – Working with internal and external stakeholders to build valuable relationships in order to meet shared outcomes
Relevance (Trust) – The respect to acknowledge a person's character and competence as deserving of belief that there is truth and reliability
The Experience – The celebration of bestowing vocational stewardship onto students by providing guidance, skills/competency-based and experiential learning career development opportunities
Visit Us
STRIVE Career Center
St. Mary's University
University Center, First Floor
Office Hours
Monday through Friday
8 a.m. to 5 p.m.
Employers, looking to hire? Find out how you can recruit Rattler talent.