As a Catholic and Marianist university, we create opportunities for you to engage deeply in academics and faith. You become part of a family dedicated to excellence, the discovery of truth and a deeply rooted belief in supporting the common good.
As you explore St. Mary's University, take a moment to imagine who you can become and what you will discover as a St. Mary's Rattler.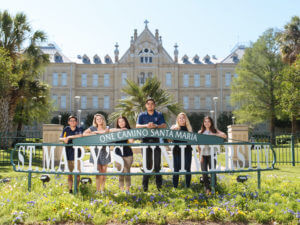 Frequently Asked Questions
What is required instead of test scores?
Aside from the admissions application, only an in-progress high school transcript is required when applying. While the following documents are not required, we will accept them for your admissions file.
Essay, personal statement, or writing sample
One (1) letter of recommendation
Resume
If you feel that one or multiple of the non-required documents helps providing a better understanding of who you are as a student and person, we encourage you to submit them along with your application and transcript.
Are transfer students eligible to apply test-free?
Yes. Transfer applicants with 30 or more college credit hours earned are not required to submit standardized test-scores. Transfer students with less than 30 college credit hours earned will need to submit their high school transcript along with college transcripts, but standardized test scores will not be accepted or used in the admission evaluation.