Money Magazine
Top Catholic university in the Southwest, No. 7 in Texas, No. 26 of Catholic institutions in U.S., 2019
Money magazine ranked St. Mary's University the top Catholic university in the Southwest and No. 26 of all Catholic institutions in its 2019 Best Colleges ranking. The magazine also ranked St. Mary's the second best university in San Antonio, seventh in Texas and No. 220 of 744 nationally. Schools were ranked based on quality of education, affordability and graduates' job success.
U.S. News & World Report
No. 2 in West for Best Value, No. 1 in San Antonio for Social Mobility, 2020
"The higher the quality of the program and the lower the cost, the better the deal," as U.S. News & World Report put it. St. Mary's was ranked second in the West region in the Best Value Schools rankings.
In its Best Colleges ranking, St. Mary's tied for 10th of 128 universities in the West for academic quality, especially student outcomes. St. Mary's has been included in the list of top-tier regional universities for 26 consecutive years.
U.S. News introduced a new ranking for Top Performers on Social Mobility this year to evaluate which schools best serve underrepresented students. St. Mary's tied for No. 22 in the West and ranked first in San Antonio in this analysis.
St. Mary's also tied for 6th among the Best Colleges for Veterans in the West, which includes schools that take part in federal initiatives to aid veterans and active-duty service members in funding their education. U.S. News also ranked the University's Engineering program.
Forbes
No. 21 in Texas, 2019
Forbes magazine ranked St. Mary's 21st in Texas and No. 124 in the South. This annual review of undergraduate institutions measures those that deliver the best academics, experiences, career successes and the lowest debt. Forbes includes only the top 15% of the 4,300 degree-granting postsecondary institutions in the U.S.
---
Did you know?
Compared to other Texas colleges and universities, St. Mary's University provides an education that ranks highly on its return on investment to students, according to the Georgetown University Center on Education and the Workforce. The value of students' investment in their education at St. Mary's increases dramatically over time. Evaluating the investment 40 years from today earns St. Mary's a spot among the top 15% of schools studied.
---
Equality of Opportunity Project
No. 10 in Texas, 2017
The New York Times published an interactive tool exploring economic diversity and student outcomes in U.S. colleges and universities. The tool is based on a study by the Equality of Opportunity Project, which formulated "mobility report cards" by analyzing public data on 30 million college students and their parents. It studies their pre- and post-college income to reveal just how well the school they attended prepared them for life after college.
Brookings Institution
No. 2 in Texas,
No. 17 in U.S., 2015
The Brookings Institution gave St. Mary's a score of 99 out of 100, making it the top university in San Antonio, second in Texas and 17th nationally for how well it prepares students for careers – ahead of Harvard, Notre Dame, Yale, Texas A&M and UT-Austin. Brookings uses government and private data to analyze college value-added, considering the economic success of graduates – incomes, occupations and loan repayment rates.
New York Times
No. 9 in U.S., 2015
Columnist James B. Stewart wrote that many of today's ubiquitous college rankings are flawed in that they don't measure institutions' true effect on students' futures. So he shed light on the Brookings Institution's "value added" rankings. Stewart interviewed the author of the Brookings study, Jonathan Rothwell, who isolated the highest "value added" colleges regardless of major. Stewart dubbed it the "Brookings-Common Sense" ranking.
Wall Street Journal
No. 2 in San Antonio,
No. 14 in Texas, 2018
St. Mary's lies in the upper echelon of 47 ranked colleges in Texas. Nationally, St. Mary's tied for 495th of 1,054 schools. This ranking, established in 2016 by the Wall Street Journal and Times Higher Education, takes college resources, student engagement, graduate outcomes and learning environment into consideration.
Colleges of Distinction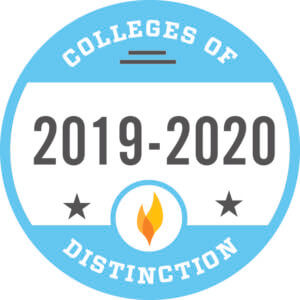 St. Mary's appears on national, Texas and Catholic Colleges of Distinction lists. An honor, not a ranking, Colleges of Distinction has been recognizing excellence in undergraduate higher education for more than 15 years. It focuses on four distinctions: engaged students, great teaching, vibrant community and successful outcomes.
PayScale
No. 22 in Texas, 2019-2020
PayScale has repeatedly recognized St. Mary's for alumni with top salary potential in their careers, and this year was no different. StMU was again among Texas' top schools in the College Salary Report. PayScale also has St. Mary's ranked 415 overall, out of 1,566 schools nationally.
College Factual
No. 2 in Southwest,
Best Colleges for the Money, 2020
StMU ranked second in the Southwest in the Best Colleges for the Money rankings by College Factual, affiliated with USA Today. The University ranked in the top 15 percent of all schools in the nation in the Best for Veterans category and was in the top 5 percent in the nation for Best Value for Political Science and Business Administration programs. Explore more on the College Factual ranking report.
San Antonio Express-News
Readers' Choice – Gold, 2016, 2017, 2018
Triple gold awards! The annual Readers' Choice awards lets South Texas readers vote on their favorite institution of higher education and other categories. In 2016, St. Mary's ended UTSA's seven-year reign atop the College/University category.
Niche
No. 2 in San Antonio,
No. 14 in Texas, 2020
Niche ranked St. Mary's second of colleges in San Antonio and 14th of 79 Texas schools. St. Mary's was also highly ranked among the Best Colleges in America, Best Catholic Colleges in America (34 of 164) and Best Value Colleges in America (189 of 1,592).
Niche's overall rankings stem from federal data as well as student and alumni reviews to help get a clearer picture of each school's quality.
Washington Monthly
No. 109 in U.S., 2019
Since being ranked No. 1 in 2010, St. Mary's has routinely been listed among the best master's universities in the country. There were 606 schools in Washington Monthly's 2019 College Guide. St. Mary's also ranked No. 58 of 203 universities in the South for Best Bang for the Buck.
College Choice
No. 4 in Texas,
No. 14 in West, 2017
StMU ranked No. 4 on the 51 Best Colleges and Universities in Texas list and No. 14 (of 35) on the Best Western Regional Universities list in 2017. College Choice uses data from U.S. News, the National Center for Education Statistics and PayScale.
Princeton Review
The Greehey School of Business at St. Mary's was among 252 outstanding on-campus MBA programs on the Princeton Review's national and regional lists for the "Best Business Schools for 2019." The St. Mary's School of Law made the list "Best Law Schools for 2020."
St. Mary's twice has been named among the top graduate schools for video game design, in 2014 and 2016, ranking 25th both years. The Computer Science Department unveiled a certificate program in educational computer gaming in 2013. This certification prepares grad students for careers in the emerging industry of game-based learning.
Texas Lawyer
No. 2  in Texas, LL.M. program
Texas Lawyer magazine listed the St. Mary's University School of Law's Master of Laws program as second-best in the state, after the University of Texas School of Law.
American Bar Association
No. 5, ABA Competitions Champions 2018-2019

The St. Mary's University School of Law advocacy program was ranked No. 5 nationally in 2018-2019 by the ABA. The ABA has created this award to recognize law schools that go above and beyond to help prepare their students for practice. Success in these competitions illustrates St. Mary's commitment to providing a well-rounded curriculum and preparing students to become highly skilled lawyers.
PreLaw Magazine
No. 15 in U.S., 2018
PreLaw magazine ranked St. Mary's University School of Law among the best law schools in the nation for Hispanics in its "Best law school's for diversity" article in the Winter 2018 edition. The analysis included number of minority students, the number of minority faculty and the services available to minority students.
TrustNodes
Best Universities to Study Blockchain Technology
TrustNodes – a news outlet that focuses on blockchain, bitcoin, ethereum and other financial technology – named the St. Mary's School of Law among the world's best in this emerging field, alongside institutions such as Cornell, Cambridge, MIT and Johns Hopkins. Angela Walch, Associate Professor of Law, has become an expert in the field, and she teaches her students about the legal and ethical issues surrounding blockchain technology.
Society for Industrial and Organizational Psychology
No. 11 in U.S., Master in Industrial/Organizational Psychology, 2018
The Society for Industrial and Organizational Psychology (SIOP) ranked St. Mary's University's Master of Industrial/Organizational Psychology program 11th overall out of 129 of the top master's programs in the nation affiliated with the society. The program, which provides students with a challenging curriculum and pairs students with alumni mentors to enhance their professional development, earned fifth in Applied Experiences for Students and 15th in Curriculum.