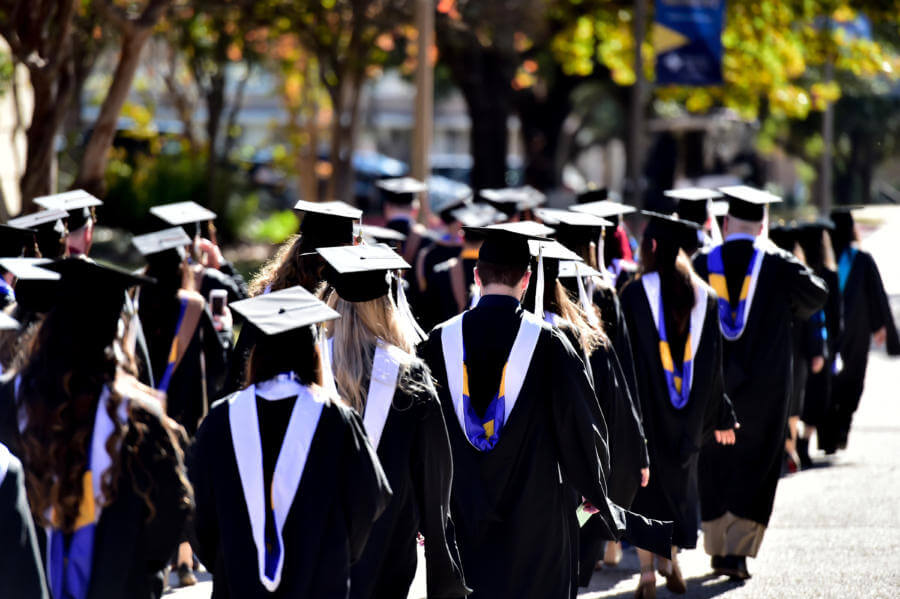 Saturday, May 15, 2021
Alumni Athletics & Convocation Center, Bill Greehey Arena
Greehey School of Business

Saturday, May 15
9 a.m.
Alumni Athletics & Convocation Center, Bill Greehey Arena
School of Science, Engineering and Technology

Saturday, May 15
Noon
Alumni Athletics & Convocation Center, Bill Greehey Arena
College of Arts, Humanities and Social Sciences

Saturday, May 15
4 p.m.
Alumni Athletics & Convocation Center, Bill Greehey Arena
Graduate Check-In and Reminders
Graduate Check-in Information
Due to inclement weather, check-in will occur in the Alumni Athletics & Convocation Center, Auxiliary Gym.
8:15 a.m., Greehey School of Business
11:15 a.m., School of Science, Engineering and Technology
3 p.m., College of Arts, Humanities and Social Sciences
Be on time.
Wear your cap and gown.
Bachelor's students, don't forget your St. Mary's University sash.
Master's students, wear your hoods.
Only approved cords and sashes may be worn.
Caps may not be decorated for the ceremony.
Wear sensible shoes; you'll be walking across campus and to the arena.
Don't bring guests with you — they should go to the arena to be seated. The procession will be televised inside the arena.
Leave personal belongings at home or with your family.
One final plea … wear comfortable shoes!
For more Commencement tips and reminders, check out the video below to learn how to prepare for your Commencement ceremony.
The University will continue to monitor CDC guidance for gathering safely amid the COVID-19 pandemic. If government guidelines for COVID-19 change, the University may implement alternative plans for graduation celebrations, which may include cancellation of in-person events.
Due to limited seating in the Bill Greehey Arena, tickets will be required for all guests entering the arena. For the May 2021 ceremonies, graduating students will receive three tickets for their guests.
Commencement tickets will be limited and the number of tickets per graduate is dependent on the total number of graduation candidates. Therefore, it is critical that students apply for graduation by the published deadline to ensure they will be eligible to receive the maximum allotment of tickets.
Children age 3 and under do not need tickets provided they can sit upon an adult's lap for the duration of the ceremony.
Tickets are not guaranteed for applications received after the deadline. Students are required to reapply if they applied for graduation for a previous term and did not graduate.
Lost, misplaced or stolen tickets will not be reissued.
No overflow seating will be provided for students due to COVID protocols on campus. For guests unable to attend, please note that all events will be livestreamed on our website. Visit the livestream page to check technical requirements or to watch the ceremony.
Everyone on campus is required to wear a face mask/covering over the nose and mouth when indoors. Face masks/coverings are not optional; individuals without a face mask/covering, or who refuse to wear one, will be asked to leave an indoor University location.
Face masks/coverings must be made of cloth or a disposable material. They may not have vents or exhalation valves (other than approved NIOSH rated N95 masks) and should have multiple layers of fabric or cloth.
Face masks/coverings and their designs should be inoffensive, professional and appropriate for our community and business setting.
Wheelchair Accommodations
A few sections for guests in wheelchairs are available along the second level of Bill Greehey Arena. For individuals who plan to sit in this section, they will be allowed one person to remain with them in the area. Due to limited seats, seating in these sections is on a first-come, first-serve basis.
Commencement guests can park in the following lots:

Friday, May 14
5:30 p.m.
Bill Greehey Arena

Graduating students of all faiths are invited to attend Baccalaureate Mass. The Rev. Tim Eden, S.M., Ed.D., Rector and Vice President for Mission at St. Mary's University, will celebrate the Mass.

Tickets are required and each graduate may have three guests attend. Check your University email for more information.
Review a timeline of all events and deadlines leading up to Commencement. Graduates, check your University email for updates, announcements and more information regarding Commencement.
| | |
| --- | --- |
| Apply for graduation | November |
| Reminder to apply for graduation | December |
| Deadline to apply for graduation: Third Friday of the semester | Friday, January 29 |
| Registrar's Office provides degree audit results | |
| Deadline to order caps, gowns, announcements and international sashes | Friday, March 19 (no late fee)Friday, April 16 (with late fee) |
| Email is sent to all commencement participants to verify their name pronunciation | April |
| Deadline to submit photos for the ceremony | Monday, April 19 |
| Regalia is distributed via mail | March to May |
| Commencement Ceremonies are held | Saturday, May 15 |